2 Platforms Forming a Single Solution
Web

: Draw a Geo-Farm & Research the Local Market.

App

: Execute your Door Knocking.


Then

: Return to the web to manage Tasks & view Reports.
Dominate your Farms & Become a Local Real Estate Expert
Knockwise retrieves homeowner & market activity data instantly on the web. Now that you have the data, you're ready to knock!
Login to a Android or iOS app, access the farm you just created & begin leaving responses as you door knock. Use your own follow up visit & mailer strategies within our system, or follow our recommended guidance for each.

Once you've cycled a farm completely (establishing yourself as the real estate expert of that area), review your performance, identify patterns & apply that knowledge to your next knocking farm. Knockwise empowers realtors with information to confidently become local real estate leaders.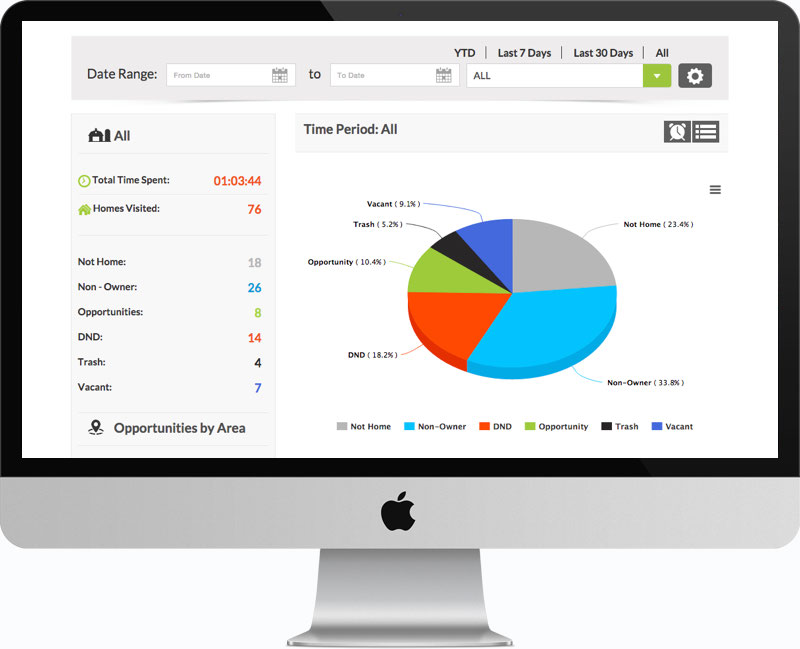 Flexible, Mobile, Real Estate Software
The Knockwise system is built in two parts. The web allows you to plan and research, while the app allows you to work in the field. Although the platforms compliment one another, they are each broken into the 3 segments of the system.
The 3 segments can be further understood by visiting the video tutorials in our Knowledge Base.
My Farms: Geo-Targeted Canvassing
My Planner: Task management
Reports: Performance Analytics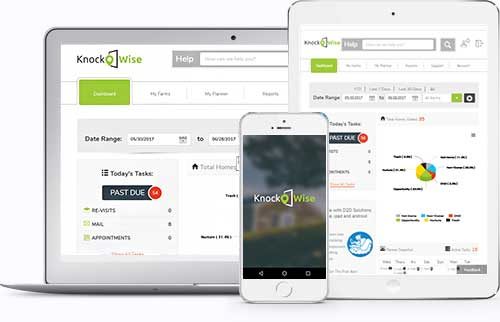 Building & Knocking Farms
Canvass your farm, then whip out the app and hit the road. Quickly familiarize yourself with each property's details before knocking. The data empowers with confidence, improving your ability to close.
Managing Tasks & Viewing Reports
For comprehensive task management & report viewing, we recommend using the web. However we've designed the app to allow managing tasks and viewing reports on the go if needed.
Geo-Mapping Data
The Knockwise system's built in two parts: a web portal and mobile app. Start in the web portal by choosing a region, then canvass a shape in the desired walking area. Now watch property owner data automatically load. View the records in a spreadsheet view or on map, as well each property's detail level. Once created, the farm is ready for mobile app knocking.
Note & Task History Tracking
Tasks are generated automatically for each property in a calendar, based on the assigned responses given to those properties. Each property has a task and activity history. Agents also have the ability to leave helpful notes, tracked in the property details of both the web and app. Notes are especially helpful from a historical farm data standpoint.
Assign Property Responses
When visiting properties on your mobile app, you initiate the timed knocking session, then based on the encounter at the door, assign the appropriate response to the property. Available options: Not Home, Do Not Disturb, Vacant, Non-Owner, Nurture, Opportunity, or Trash. These properties form a logic matrix for creating follow up tasks, coaching you to methodically dominate that farm area before moving to another.
Knocking Performance Data
Since the app enters a timed knocking session before you can assign responses to properties, your activities are timed to the second. Giving you data you never had, now you can become a more intelligent knocker by seeing what your efforts resulted in overtime. Identify opportunity and nurture patterns by date, day of the week, and time.
Automated Follow up Visits
Visit tasks are auto-generated for each property in a calendar view based on the assigned responses given to those properties. If a property's assigned "Not Home", it auto-generates a revisit in the planner. Visit tasks can be completed easily on the app. Once the next status is assigned to the property, the original task auto-completes.
Deep Performance Analytics
Besides timed sessions, use reports to better understand performance amongst all your farms all time, within 30, or 7 days. View performance in specific farms within a desired date range to dig deeper. View your opportunities by farm, understanding based on your time session data, what percentage of your time is being spent on which responses.
Automated Mailer Tasks
Mail tasks are auto-generated for properties based on the assigned responses assigned to those properties. Once assigned a response, the planner auto-generates a mail task for it. Mail can be completed on the app,but more easily on the web portal for bulk printing. If possible, hand write letters and mark the reminder complete in the planner.
Mobile Responsive Web Portal
Our web portal can be accessed via browser on mobile devices if you need to get to a feature (like canvassing) when you are away from the office. Since it is built in a responsive framework, regardless of what device you are using, tablet or phone, small or large, the screen will adjust to allow for an optimum working experience.
Cross-Platform Mobile App & Cloud
Knockwise's built on a cloud server for both web and app. The app runs on both iOS & Android devices. It runs on tablets or phones using either of these mobile operating systems. Turn on the app's automatic updates to ensure you're getting the newest enhancements, as they roll out. The cloud based CRM allows you to work on web or app, synchronizing all your efforts.
Future Integrations Coming Soon
Lifestyle Homeowner data like divorces, predictive market analytics data to recommend best opportunities, and more … We also have some great ideas for new groundbreaking technology to help you with events like open houses and more … shh! We don't want to reveal all our secrets!
Getting Started with a Free Trial
Getting started on the Knockwise system is as easy as cake! Just click getting started, fill out the form, and you'll receive an email with instant login. be sure to change your password from the temporary, and you'll be good to go. Nothing is excluded, you get the entire system 100% free for 30 days.


Our product also features up to date MLS feed information to better help the agent understand the market status of a neighborhood before fully farming it. We are aggressively improving our product with new features agents like you suggest, for suggestions please
contact us
.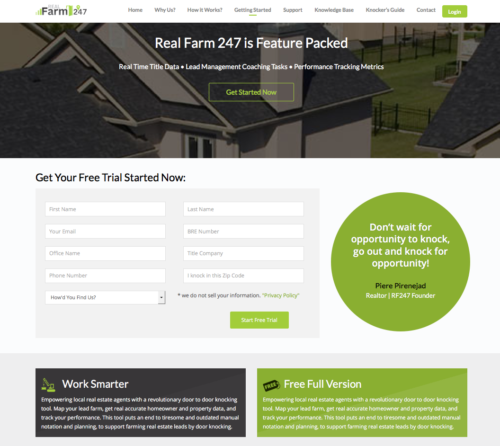 Supercharge your Lead Generation
Get a leg up on the competition and become your local Real Estate expert. Our system get's you real data instantly, it teaches you how to manage your farms in a cohesive complete sales process, and it allows you to track that progress in great detail.
Increase your Door Knocking Productivity
With a streamlined technology at your finger tips, increase efforts to complete a farm of 150 homes through 4 cycles, maturing your relationship with those home owners. With the planner automatically tracking your re-visit & mail tasks, run 2 -3 farms at a time for unparalleled productivity.